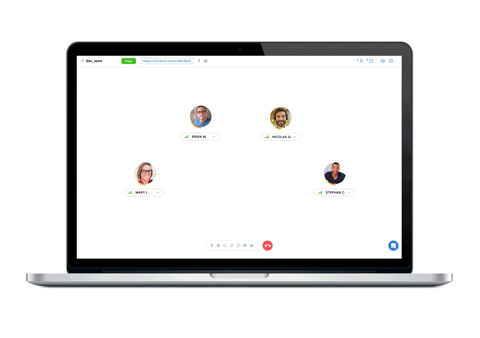 Every vision starts somewhere; ours began with the belief that there is a smarter way to do conference calls. In today's changing work landscape, we know that every conversation matters, so we set out to create a new experience for you, our user, so that you can have a great sounding call every time.
We are now pleased to offer:
The ability to place speakers anywhere within your virtual meeting room (left, center, right, close, or far)

Multi-stream technology to eliminate frustrating cross talk and garbled voices to provide a "same-room" sensation

Support of up to 15 audio participants and 6 video participants with multiple video layouts, from a convenient gallery view to an active speaker mode

Increased ease of use: join a meeting in one click and make inviting guests simple for both you and your invitees with our direct calling URLs  

More collaboration: Screen sharing, file sharing and file presentation, call recording, messaging, cross-company channels, audio messages, scheduling and more

Dial-in options to support 40+ countries, including China
Voxeet now provides the industry's only 3D surround-sound audio & video experience that combines video with "TrueVoice" 3D audio. Together, this makes calls not only simple to join but of the highest quality currently possible on the market.
"Voxeet is a truly fantastic app which I've been using almost on a daily basis with my team, which is spread across almost a dozen different countries in Latin America. I've tried different solutions before, and must say that your sound quality is simply unbeatable. Keep up the great job!"
 -Andre Felippa, Marketing VP for Alcatel Latam

"Voxeet TrueVoice™ 3D surround sound will offer a far more engaging experience for participants, and make conferencing more effective." -Gartner
We're excited for you to see for yourself why combining video with our "TrueVoice" 3D audio can truly help improve the way that your conference calls are made.
Cheers,
Stephane & The Voxeet Team